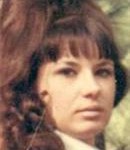 Eva P. Bennett, age 71 passed away January 24, 2014 at Galesburg Cottage Hospital, Galesburg, Illinois.
She was born November 23, 1942 in Galesburg, Illinois. She was preceded in death by her father, Curtis Wayne Bennett, her mother and step-father, Helen and William "Bill" Derby, a grandson, T.J. Racine and her former husband, Larry Biggiam.
Eva is survived by her children: a daughter, G. Christine Biggiam Haptonstall, of Galesburg, Illinois; a son, Terry W. (and Nancy) Biggiam of Batavia, Illinois; her brothers, Richard Bennett of Arlington, Texas, Ron and Bob Bennett of Amarillo, Texas, grandchildren, Casi Biggiam of Batavia, Illinois, Kyle Haptonstall of Galesburg, Illinois, Brianna Rhodes of Batavia, Illinois, a great grandson, nieces and a nephew. Also surviving are her beloved sister-in-laws, Linda Biggiam of Galesburg, Illinois and Bev Wetterow of Knoxville, Illinois.
Eva attended Galesburg High School and later received her GED. She worked as a Quality Control Inspector for the former Gale Products in Galesburg, Illinois. She attended and volunteered at Corpus Christi Catholic Church and the FISH Food Pantry. She loved gardening, scripture, helping those in need and a good Laugh.
If you met her, you met an angel. If you knew her, you knew an angel. If your paths crossed, a prayer was said for you, by an angel. For our mother, who is now our angel. By Christine Haptonstall.
Eva's wishes were to be cremated. Services will be handled by her family at a later date. Memorials may be made to the Knox County Humane Society. Hurd-Hendricks Funeral Homes & Crematory in charge of arrangement. On-line condolences and sympathy cards may be sent through www.hurd-hendricksfuneralhome.com