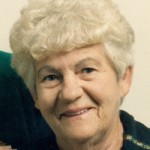 Mary Marcia Craig, age 89 of Wataga, Illinois died at 9:00 A.M. on Friday, January 24, 2014 at her residence in Wataga, Illinois.
She was born on January 10, 1925 in Pinehurst, North Carolina the daughter of Beryl and Mary Lyons Wood. She married Edward Rafferty, he preceded her in death, then she married Kenneth Craig, he preceded her in death.
Surviving is a daughter, Mary Ellen Smith of Wataga, Illinois and a son, Kenneth (Staci) Lovell of Oneida, Illinois. Five grandchildren and eight great grandchildren survive. She also has six brothers and two sisters surviving. She is preceded in death by her parents, step-father, Tim Frisby, husbands, two brothers, three sisters, and one son, William Rafferty.
She worked at the former Admirals in Galesburg, Illinois, then as a nurse's aide at the former Galesburg Research in Galesburg, Illinois, and then she worked for thirty years with flea markets and antiques. She enjoyed boating, fishing, and spending time with her family. She drove a stock car and raced in the area. She loved horses.
Cremation Rites will be accorded. Memorials may be made to the Knox County Humane Society. Hurd-Hendricks Funeral Homes and Crematory is in charge of arrangements. Online condolences and sympathy cards may be sent through
www.hurd-hendricksfuneralhome.com