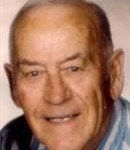 Mr. Buell Otto Mack, age 88 of Galesburg and formerly of Berwick, died at 3:33 p.m. Saturday, January 25, 2014 at Seminary Manor in Galesburg.
He was born on February 14, 1925 in Maynard, Ark, the son of Aaron and Ollie Fowler Mack. He married Veda Mae Bennett on February 11, 1950 in Pocahontas, Ark. She preceded him in death on October 11, 2011. He was also preceded in death by his parents, a grandson, one brother and two sisters.
Buell is also survived by a son, Rick (and Linda) Mack of Galesburg, Ill.; two daughters, Sandy (and George) Campbell of Roseville, Ill. and Marsha (and Davis) Biddle of Aledo, Ill.; seven grandchildren; twelve great-grandchildren; one great-great-grandchild; and one brother, Charles Mack of Aurora, Ill.
He moved to Abingdon, Ill. from Arkansas in 1950. After a few years in Abingdon, he and Veda moved to Berwick, Ill. and lived there for 50 years. In 2005 they moved to Galesburg.
He served in the Army during WWII. He worked at Briggs Manufacturing in Abingdon for 38 years and retiring in 1988. He and Veda also owned and operated B & V Grocery and Mack's Upholstery, both in Berwick.
He was a member of the Berwick Baptist Church where he also served as a deacon and on many of the church committees. He was a former volunteer fireman for the Abingdon Fire Protection District Berwick Station for 42 years. He served on the Berwick Township Board for 45 years. He was a member of the Happy Hollow Beagle Club. He enjoyed playing his guitar, the mandolin, and at the age of 80 he learned to play the banjo. His hobbies included wood working and ceramics.
Funeral service will be held at 11a.m. Thursday, January 30, 2014 at the Berwick Baptist Church. Pastor Thomas Smith will officiate. Burial will follow in the Berwick Cemetery with military rites conducted by Harry E. Wiles American Legion Post #381. Visitation will be held from 6-8 p.m. Wednesday at Hinchliff-Pearson-West Galesburg Chapel.
Memorials may be made to Berwick Baptist Church. Online condolences may be made at www.h-p-w.com.