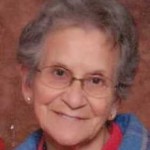 Mary E. Foster, age 93 of Abingdon, died at 1:05 am Tuesday, January 28, 2014 at the Care Center of Abingdon.
She was born on June 1, 1920 in Maynard, Arkansas, the daughter of Robert and Anna (Mack) Fowler. She married William "Bill" D. Foster on October 4, 1941 in Doniphan, Missouri. He preceded her in death on June 14, 2001. She was also preceded in death by her parents, three sisters and four brothers.
ary is survived by her daughters, Mary Anne (Jerry) Link of RR Abingdon and Kathy (Jim) Palmer of Bushnell; four grandchildren, Kim (Kevin) Wills of Charlotte, North Carolina, Jeff (Lori) Link of RR Abingdon, Stacey (Keith) Millizer of Avon and Brian (Sandy) Palmer of Omaha, Nebraska; and six great-grandchildren, Cassie (Tyler) Schleich, Cory Link, Aidan Wills, Andy Wills, Maddax Palmer and Brayden Palmer.
She had lived in the Abingdon area most of her life. She worked at the Brass Factory in Abingdon, the Alton Box Company in Galesburg and she retired from the Maytag Company in Galesburg. She was a member of the Church of Christ and the Harry E. Wiles American Legion Post #381 Auxiliary. Her hobbies included gardening, sewing, knitting, crocheting and baking. She also did alterations for Mary Anne's Style Shop in Abingdon. She worked hard all of her life and she was never afraid to try anything she set in her mind to do.
Funeral service will be held at 11:00 am Friday, January 31, 2014 at the Hinchliff-Pearson-West Abingdon Chapel. Mrs. Eleanor Landon will officiate. Burial will follow in the Abingdon Cemetery. Visitation will be held 5:00 pm to 7:00 pm Thursday at the chapel.
Memorials may be made to the Abingdon First Responders or the Care Center of Abingdon. Online condolences may be made at www.h-p-w.com.