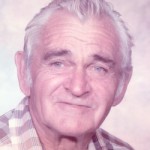 Ray "Tennessee" Hensley, age 87, of Rural Knoxville, Illinois passed away peacefully with his Family by his side at his residence in Knoxville, Illinois.
He was born on June 17, 1926 in Rogersville, Tennessee the son of Oscar and Grace Crawford Hensley. He married Beverly J. Gorey on March 25, 1950 in Cambridge, Illinois. She preceded him in death on July 31, 1994.
Surviving are his children: Theresa (Edward) Stoneking of Galesburg, Illinois; Gary (Cindy) Hensley of Knoxville, Illinois; Linda Carley of Galesburg, Illinois; Kathy (Rodger) Bycroft of Galesburg, Illinois; Lorrie (Mark) Byerly of Galesburg, Illinois; and Lisa (John) Thompson of Knoxville; Sixteen grandchildren and twenty-two great grandchildren; two brothers, Chuck (Norma Jean) Hensley of Galesburg, Illinois and Ralph Hensley of Galesburg, Illinois; five half- sisters and one half-brother. He was preceded in death by his parents, wife, three sons, Raymond, David, Roger, one grandson, Robert Ray, one brother, Buddy, and one infant sister, Edith.
He was a laborer for 61 years for the Local 538, then retired from the Local 165 and farmed in rural Knoxville, Illinois. He enjoyed his family and socializing with friends, visiting all the sales barns attending livestock auctions in the area for over 51 years. He was a member of the Knox county Farm Bureau.
Funeral Services will he held on Thursday, January 30, 2014 at 11:00 A.M. at the Hurd-Hendricks Funeral Homes in Knoxville, Illinois. Rev. Milton Marquith officiating, Visitation will be held from 5:00 to 7:00 P.M. on Wednesday, January 29, 2014 at the Hurd-Hendricks Funeral Home in Knoxville, Illinois. Interment will be held at the Knoxville Cemetery, Knoxville, Illinois. Memorials may be made to the East Galesburg Chapel or to the Knox county Humane Society. Online condolences and sympathy cards may be sent through www.hurd-hendricksfuneralhome.com