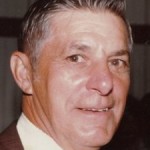 Mr. John Frank Madura, 93, of East Galesburg, Ill. died at 12:30 a.m. Tuesday January 28, 2014 at his home.
He was born December 7, 1920 in Hammond, Ind. the son of Andrew and Elizabeth Martin Madura. He married Julia Martinez Rodriguez on September 17, 1983 in Gilson, Ill. She survives.
Also surviving is his son, Dennis (Linda) Madura of Boise, Idaho; his daughters, Sandra (Wayne) Cleek of Hammond, Ind. and Sharon (Mike) Mueller of Orange Valley, Calif.; his step sons, Lupe (Sheryl) Rodriguez, Steven (Debbie) Rodriguez, and Victor (Gloria) Rodriguez, all of Galesburg; his step daughters, Lourdes (Larry) Fones of Knoxville and Ophelia (John) Sharp, Anita (Jerry) Clarke, and Ventura (David) Stinson, all of Galesburg; 27 grandchildren, 57 great grandchildren and three great-great grandchildren; and a sister, Violet Ryan of Union Mills, Ind. He was preceded in death by his parents and a brother, Robert.
John had owned a service station in Calif. for 17 years. After moving to Galesburg, he was a welder at Butler Manufacturing Company and also farmed from 1970 to 2006. He enjoyed working outside and building and remodeling homes.
Funeral will be 11 a.m. Tuesday, February 4, 2014 at Hinchliff-Pearson-West Galesburg Chapel. Deacon Michael Crummer will officiate. Visitation will be 9 to 11 a.m. Tuesday at the chapel. Burial will be in St. Joseph Cemetery. Memorials may be made to the family. Online condolences may be made at www.h-p-w.com.