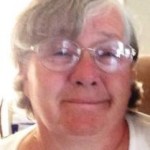 Kathleen A. "Kathy" Morehead, 60, of Galesburg, died at 11:27 a.m. Monday, January 27, 2014 in OSF St. Mary Medical Center.
She was born September 25, 1953 in Kansas City, Mo. the daughter of William F. and Doris (Goodwin) Moore. 
She is survived by her father, William (and Nancy) Moore of Camdenton, Mo.; three sons, Preston (and Michelle) Morehead of Oneida, Ill., Shawn (and Emily) Morehead of Springfield, Ill., and Scott (and Samantha) Morehead of Fort Gordon, Ga.; 10 grandchildren, Kayla Churchill, Ashe Morehead, Gage Morehead, Shawn Jakob Morehead, Gavin Morehead, Hailie Morehead, Serenity Morehead, Madison Morehead, Emmalin Morehead, and Mackenzie Morehead; two sisters, Deborah McCormick and Terri Olsen, both of Apache Junction, Ariz.; and special friend and fishing buddy, Larry Smith of Galesburg. She was preceded in death by her mother; a brother, David Moore; and a grandson, Caleb Morehead.
Kathy worked for Pizza Hut, co-owned and operated K-M Sports from 1986 to 2001, and worked at Clark and Shell Gas Stations. She graduated from Galesburg High School in 1971. Kathy was an avid fisherman, was a member of Little John Conservation Club, and bowled for many years on a Thursday night league at Northgate.
Funeral will be 3 p.m. Monday, February 3, 2014 at Hinchliff-Pearson-West Galesburg Chapel. Rev. James Ecklund will officiate. Visitation will be 2 to 4 p.m. Sunday at the chapel. Memorials may be made to the family. Online condolences may be made at www.h-p-w.com.