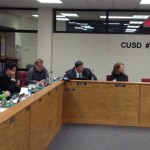 Members of the Galesburg Community are expressing discontent after a vote to close Cooke Elementary during Monday night's District 205 Board of Education meeting.

The board discussed during a closed door January Committee of the Whole meeting to close Cooke with the District Administration making the recommendation.
A $5-million deficit is being projected going forward by the District and is largely being blamed on a lack of general payments from the State of Illinois.
Board President Tom Colclasure says when the Board considers items that affect people's lives, it can evoke strong emotions.
"Unfortunately we're in a financial situation that's deteriorating," says Colclasure. "We have to find answers before we end up being bankrupt – which is what's going to happen in four years if we don't. I don't like just cutting, I hope we can raise some revenue as well, but that's painful, people don't like that either."
10 individuals spoke to the board, all of whom spoke in favor of keeping Cooke Elementary operating until alternatives could be found.
Closing Cooke Elementary would save the district about $930-thousand as part of a larger $1.8-million cost containment plan.
Community member Emma Sargeant told the Board she believes Cooke is a wonderful school worth saving.
"They have the whole child concept at Cooke," says Sargeant. "You don't just teach them what they need to know in school, they also have socialization."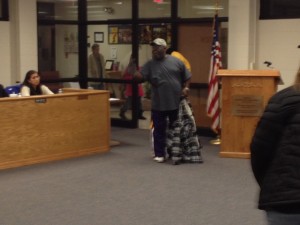 Superintendent Bart Arthur has said repeatedly that Cooke Elementary is in violation of the state's 70/30 rule – which involves the percentage of Special Education students allowed per classroom.

Closing the school has been brought up in past years to propose cost containment measures.

The argument sparked the surprise of the Galesburg Education Association because, according to them, there are other schools that are exceeding the state's 70/30 ratio.

Arthur says there is no perfect plan, but this is the best plan with the least impact on students.

"It's important to remember that this negative budget is not the result of anything this board or any previous boards have done," says Arthur. "It's simply that our state is dead last in funding schools. Dead last, 50th. And if that doesn't make us concerned then that is a problem."

The District approved the closing of Cooke unanimously which brought several comments from those in attendance to express discontent with the vote.

Closing the school will likely take place after school is let out in the spring according to Superintendent Bart Arthur.

Several staff members will lose their positions in the cost containment shuffle. The board is still planning further cuts to battle ongoing deficits in future budget years.

Tags: