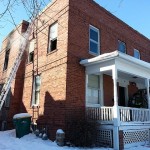 POSTED 3:50pm 2/11/13  Galesburg firefighters are still investigating what happened when fire broke out at an apartment building near downtown Galesburg Tuesday afternoon.
Crews were called to 34 North Pearl Street around 2pm, after Battalion Chief Todd Peterson says fire was seen coming from the southernmost upper-level apartment in the two-story, four-apartment structure.
Peterson tells WGIL work an attic-like area in the building helped determine how crews worked to get the fire out.
"This building with a flat roof, a lot of times…instead of having attic space, it's…about a three-foot space up above [the ceiling]," Peterson said.  "We had to tear into the ceiling, to make sure there was no [fire] extension into that space."
Peterson says the fire was nevertheless under control in about five minutes.
No one was home at the time, but Peterson says it's believed that someone was seen running from the building when crews arrived.
The Red Cross was called for assistance, and one cat was safely rescued.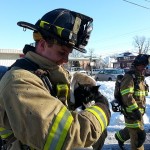 Tags: