Galesburg Police say they've nabbed a West Virginia man who allegedly was carrying what could be described as a large amount of marijuana with him when he was passing through the area earlier this week.
Galesburg Police say officers conducted a traffic stop Monday on Interstate 74 on a 2004 GMC Yukon bring driven by 68-year-old David Joseph.
Officers say a K-9 unit was brought in and discovered what turned out to be around 145 pounds of cannabis, that turned out to be valued between $300,000, and $500,000.
Joseph faces Class-X felony charges of Manufacture or Deliver of Cannabis, Over 5,000  grams; and Cannabis Trafficking, Over 5,000 grams; along with a Class-1 felony charge of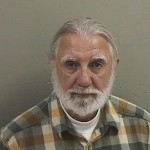 Possession of cannabis, Over 5,000 grams.

Joseph is being held in the Knox County Jail; bond was set Wednesday at $150,000. Another court date has been scheduled for Monday. In a connected court filing, Joseph may have to forfeit his vehicle if convicted.

Tags: