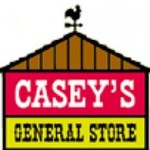 FIRST REPORTED 5:30am  Casey's General Store will be opening a new location in Galesburg.
The information was initially brought forward, though kept under wraps, along with a proposal to suspend the City of Galesburg's landscaping ordinance by Sixth Ward Alderman Wayne Allen during this week's City Council meeting.  Allen suggested the City's Administration put a moratorium on the regulation to better attract businesses to the City.  "We're good at giving them the run around," said Allen. "So I'm going to put a request to the City Manager that we suspend our landscape ordinance and have that on the agenda for the next meeting for the Council to vote on until we can put something in place that will let people come to this town and feel like they're needed."
The City of Galesburg's landscaping requirements say they hope to shield neighboring properties from negative visual influence.  The documents go on to say that the appearance and desirability of any development contributes to the City's economic health.
Community Development Director Roy Parkin tells WGIL the landscape requirements were set-up in 2010 along with the new development ordinance to address concerns that buildings were getting constructed without any landscaping.  "Anytime a new development is developed, a building addition is put on, a parking lot addition is put on, the landscape requirements could be applicable to that specific project," says Parkin.
Casey's General Store has confirmed that they will be opening a new location at the corner of East Carl Sandburg Drive and North Seminary Street.  The building is slated to be about 42-hundred square feet and will create between 18 and 22 jobs full-time and part-time jobs in Galesburg.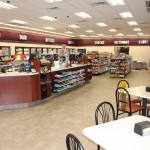 Casey's CFO Bill Walljasper tells WGIL they already have land under contract.  "It's certainly a large enough community to support other convenience stores like Casey's and we don't have a presence on the North side of Galesburg and this new site will certainly fit that bill," says Walljasper.

Whether the City Council agrees with the notion that suspending the ordinance can attract companies will be a point of debate for aldermen during their next meeting in March.  Casey's has not, as of yet, filed for any licenses according to the City Clerk's office. Sources also say the business has not filed any development plans in Galesburg.

Galesburg City Economic Development Director Cesar Suarez told WGIL in an e-mail response that he had "no comment" on the situation.

Walljasper says the location's plans have not been released to their construction crews.  "It will either have six or eight pump islands, it certainly will have some amenities that Galesburg may or may not be familiar with, but for our stores at least, it will have a sit down area for our customers," says Walljasper.

The City provides a guide in their ordinance to interested companies which cover details such as the standards for plant materials, plant sizes, spacing, maintenance, and digging specifications.

The new location will likely be opening sometime before the end of the calendar year.

Tags: