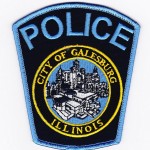 A Galesburg man faces charges including driving drunk and possessing a weapon and ammunition when police discovered his vehicle Saturday afternoon.
Galesburg Police reports indicate officers responded to the 800 block of North Henderson Street around 1:30 pm Saturday, initially after a male subject not wearing a shirt or shoes was reportedly asking for help.
Police discovered 30-year-old Lance Stromberg and his van, and a subsequent search turned up firearms ammunition, open containers of alcohol, and brass knuckles.
Stromberg reportedly told authorities that he and his friends were in the vehicle when it hit a bridge, which he allegedly jumped from.
Stromberg was taken to a hospital to be treated, but it was later determined that treatment was not necessary.
Stromberg, who was also wanted for violating an order of protection and disorderly conduct, faces charges of Driving Under the Influence, Unlawful Use of a Weaon, and Possession of Firearm Ammunition, and was taken to the Knox County Jail.