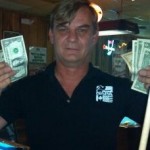 Mr. Gary Allen Smith, 50, of Galesburg died at 4:05 pm Thursday, March 20, 2014 at home.

He was born November 8, 1963 in Springfield, Ill. the son of Roger Lee and Janet K. Seward Smith.
He is survived by his mother Janet (Jeffrey) Hunt of Springtown, Texas; his grandmother, Anna Freeman of Abingdon, Ill.; four brothers, Terry (Angela) Smith of Robinson, Ill., Larry Smith of Ky., Delbert (Susan) Bennett and Quentin (Amy Clark) Bennett both of Mexico, Mo.; two sisters, Anastasia (Mark) Waltz of Lansing, Mich. and Josette (Jeff) Kerns of Monroe City, Mo.; several nieces and nephews and his best friends, Zan and Connie Carter of Galesburg.  He is preceded in death by his father and step mother, Roger and Gloria Smith, grandparents, Walter and Elsie Smith and Harmie Seward.
Gary served in the US Army.
He was the owner and operator of Diamonds on Main Street. He also was involved with other businesses including Abbe Lanes, Boondocks, RocknRoller Rink and Best Used Furniture. He graduated from Lewistown High School in 1980. He attended the Church of God of Prophecy in Abingdon. Gary participated in dart and pool leagues and was a member of NAPA National Amateur Pool Association. He organized tournaments for over 100 players in the Galesburg area. He enjoyed model cars and assembling aquariums for friends.
Funeral services are scheduled for Noon, Wednesday March 26, 2014 at Hinchliff-Pearson-West Galesburg Chapel. Mrs. Eleanor Landon will officiate. Visitation will be from 10-Noon Wednesday at the chapel. Cremation will follow services. Memorials may be made to the Church of God of Prophecy. Online condolences may be made at www.h-p-w.com