A Galesburg man accused of having a role in a shooting death late last year will now have a new attorney.Knox County Circuit Court records indicate Public Defender Karl Johnson yesterday withdrew as counsel for 18 year old Alex Horton, facing charges of Possession of a Firearm by a Street Gang Member, and Possession of a Firearm without a Firearm Owners I.D. Card.
A judge granted the motion to withdraw, and then appointed Public Defender Dan O'Brien to replace Johnson.
Horton and 18 year old Brandon Kenney were arrested weeks after the December 22nd shooting incident. Kenney is accused of actually pulling the trigger and killing 15 year old Javon Butler, who was found in the back yard of a home in the 600 block of Monmouth Boulevard.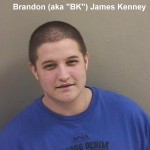 Kenney faces charges including First-Degree Murder, Aggravated Discharge of a Firearm, and Possession of a Firearm without a Firearm Owners I.D. Card. He's scheduled for a pre-trial hearing April seventh.

Horton, meanwhile, now has a First Appearance in Court with his new attorney on May first. Both remain jailed.

Tags: