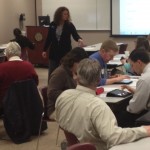 Professionals from the manufacturing and education fields gathered this morning to share ideas on the future of manufacturing. The meeting, hosted at Carl Sandburg College, saw area companies converse about employee training and business needs.
Today was the first in a long line of meetings the college has planned with industry leaders, but will focus on healthcare and other sectors throughout the year Using mobile devices, groups were able to discuss the equipment used in their facility, the curriculum needed in education, and skills development.
Carl Sandburg College's Dean of Career, Technical and Health Education Lauri White tells WGIL they really want to focus five years out.
"We just need to find out what those needs are so we can work together as a collegial group here, a collaborate group to ensure those needs are met," says White.
Tapping into educational resources to help find employees locally was cited as a key need moving forward.
Many of the employers, however, said employee work ethic was a problem in their businesses. Schwarz Bros. Manufacturing Owner Steve Gray tells WGIL he hopes to boost Sandburg's knowledge on the need for manual machinists.
"The skills that we need are not being provided because the programs have been cut long ago so we have a big gap in the education that we have, the education that we're doing, the gap in the middle of about 10 years where we didn't teach anybody how to be a machinist," says Gray.
Sandburg says they will use the information gathered to build better educational transitions from schooling to the workforce.