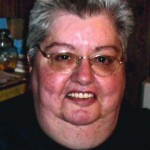 Connie S. "Sarge" Tapscott, age 62, of Rock Islan d, IL. Died Wednesday April 9, 2014 at Unity Point Hospital in Rock Island. Services are 11:00 AM Monday April 14, 2014 at the Peterson Wallin Knox Funeral Home in Alpha.

Burial is in the Alpha cemetery. Visitation is from 2-5 PM Sunday at the funeral home where a memorial fund will be established. Online condolences can be made at www.petersonwallinknox.com
She was born February 15, 1952 in Aledo, IL. To Edward and Carolyn McMeekan Tapscott. Connie graduated from AlWood High School in 1970 and enlisted in the U.S. Army serving as a WAC from 1970 to 1973. She never married.
Connie was currently employed as a clerk with Mediacom of the Quad Cities and previously worked at the Davenport sorting center of the U.S. Post Office, the Rhythm City Casino and the Rock Island Arsenal.
She loved to read, fish and go to the casinos. Connie shared her love for the Chicago Cubs with her grandson Jake and also shared her love of the three stooges with her grandson Braden. Her favorite TV show was the "Bib Bang Theory" where she fondly referred to her granddaughter Camille's boyfriend, Ian, as "Sheldon" because of their resemblance!
Survivors include her daughter, Angie (Brad) Taflinger of Alpha, IL, 3 grandchildren Camille, Jacob and Braden Taflinger all of Alpha, Il. Step-father, Glen Starman of Alpha, Il, Siblings, Laurie (Paul) Meyer of Alpha, Il, Linda (John) Starofsky of Preemption, IL, Trish (Ben Voss) Forsyth of Victoria, Il. Lisa (Owen) Long of Richmond Hill, GA, Debra ( Randy) Longcor of Kansas City, MO, LuAnna (Rex) Mynatt of Carman, IL, Ronald (Susie) Tapscott of Alpha, Cindy Forsyth Ackerman of Blue Grass, Ia, Kenneth (Bobbi) Tapscott of Stronghurst, Il, Mel Tapscott of Arkansas, Del Tapscott of Kansas City, MO, several aunts and uncles including Stan McMeekan of Rock Island, Il and several nieces and nephews.
Her parents, preceded her in death