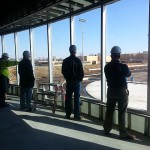 Members of the Galesburg School Board say they're pleased the winter weather and early spring rains haven't slowed down construction of the new athletic complex at Galesburg High School very much, if at all.
Board members yesterday took a tour of the new baseball and softball diamonds, new football field, and new fieldhouse being built at a cost of $16 million as part of Operation Rebuild Achievement — this, even as district officials learned that Sundberg Field and a softball diamond won't be used at all this season, owing to construction work that still needs to be completed.
Board president Tom Coclasure tells WGIL the new facilities will provide more than just baseball, softball, football, and track that students can participate in.
"It's a pretty impressive structure," Coclasure said.  "I think it's going to offer a lot to our students as far as different opportunities for different athletic fields of endeavor.  I like the idea that they're going to have some alternative-type activities, too — like yoga and pilates and that sort of thing, not just your standard sports stuff or, maybe, branch out to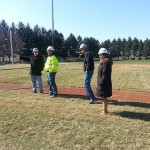 activities that everybody can participate in, and I think there's plenty of room to do that."

Officials with construction manager Russell Construction say they still anticipate the project largely being complete by early August, in time for football games to be played on the new Van Dyke Field.

They say some landscaping and other work may have to wait until later in the fall, depending on the weather.

Tags: