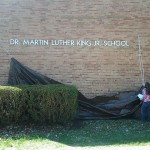 Yesterday was a sign of a new spirit of cooperation within the community, according to dedication speaker Michael Finley.
What was formerly King Elementary has expanded its name to Dr. Martin Luther King Jr. Elementary.  The official name change came during a ceremony dedicating a sign for the school.
The reason for the shortened name is unknown but Finley tells WGIL the reason for the change is not.
"This is a whole new era in time," Finley said.  "People are working harder together, instead of apart.  So, I think that had something to do with it."
Galesburg Superintendent Bart Arthur tells WGIL that for the school this was a historic event representing the spirit of Dr. King's teaching.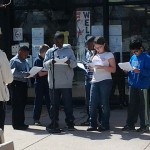 "It's about keeping the legacy alive of what Martin Luther King stood for,"  Arthur said.  "Look at the diversity in this school.  They have somebody from every race, ethnicity — and that's what we try to pride ourselves on in Galesburg."

At the ceremony the group of students from the school recited portions of Dr. King's famous "I have a Dream" speech.

The school will now be officially known as Dr. Martin Luther King Jr. Elementary School.

Tags: