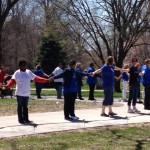 Area residents joined hands around the Knox County Courthouse for an annual event to raise awareness about child abuse prevention, Friday.

The Blue Ribbon Task Force – which consists of Safe Harbor, Bright Futures, CASA of Knox County, and others – aims to both educate and inform on the issue.
This year's "Hands Around the Courthouse" speaker was Galesburg Police Detective Kevin Legate who discussed his work investigating child abuse cases. Last year, there were 28-thousand cases of child abuse were reported in Illinois, some of which came directly from Knox County.
Legate tells WGIL that if a child is not acting "right," there could be something going on at home.
"The quicker that we intervene, the better chance that we can help solve or at least let that child heal and he can move on," says Legate.
Pinwheels were planted around the courthouse lawn yesterday that members of the Blue Ribbon Task Force say symbolizes the lives affected by child abuse. Task Force members say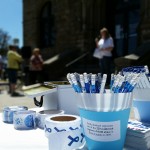 child abuse is not just a Chicago issue, but is also present in the area. Safe Harbor Child Advocate Julie tells WGIL that often, supporting a parent in need can prevent some instances of child abuse.

"If you see a parent that you think is a little extra stressed out and you're concerned that they might lash out at their child, be there to support them," says Julie. "Offer to watch their child for a few hours so they can take a walk, or go shopping, or get their hair done."

"Hands Around the Courthouse" caps off April as child abuse prevention month. Hotlines and other non-profit resources are available for those affected by abuse in all forms.

Those in attendance on Friday said residents should learn to notice the signs of physical abuse, but should also be aware of behavior changes that may indicate mental abuse.

Tags: