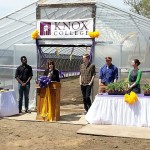 Knox College capped off a week full of activities marking Earth Day and Earth Week by planting what will become the next ingredients in food cooked in the Knox College Cafeteria.
Knox yesterday cut a ribbon on a new high tunnel growing structure — similar to a greenhouse — on the Knox Campus, near Academy and Berrien Streets. It's the first of two high tunnel structures going up.
Knox College president Teresa Amott says the high tunnel structure was the result of a long talk about food with a number of Knox students — a discussion Amott admits wasn't what she thought it would be.
"It was not culinary; it was wide-ranging," Amott said.  "It was about the economics of food, the politics of food, the ethics of food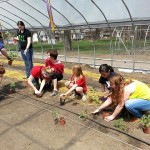 , the
climate implications of food production, and about the growing farm-to-fork movement."

The structure — spearheaded in part by Knox professor and Galesburg Alderman Peter Schwartzman — will eventually grow an estimated 9,000 pounds of produce per year that will be used in Knox meals. Saturday, tomatoes were planted that will be used in cafeteria sauces.  Other items were planted previous to yesterday's ribbon-cutting.

Students paid for the first structure. A second is under construction being funded with a grant from the Galesburg Regional Economic Development Association.

Tags: