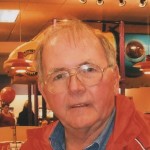 Wayne E. Johnson, 69, of Alpha, Illinois died Friday, May 2 , 2014 at home. Services are 1:00 p.m. Wednesday, May 7, 2014 at Peterson-Wallin-Knox Funeral Home in Woodhull.

Burial is in the Woodhull Cemetery. Visitation is 4-7 p.m. Tuesday at the funeral home where memorials may be made to the American Heart Association. Online condolences can be made at www.petersonwallinknox.com.
Wayne was born March 10, 1945 in Kewanee, Illinois to Carl S. and Mildred Pierson Johnson. He attended Galva schools. He married Carol Manthe March 14, 1994 in Lake Tahoe, Nevada.
Wayne was employed as a carpenter at Alexander Lumber Company in Woodhull until establishing Johnson Construction Company in Woodhull, retiring in 2013.
He coached baseball for many years and enjoyed fishing in Canada, golfing, mushroom hunting and his dogs. He was an avid Cardinals and 49ers fan and enjoyed going to the casinos. He loved his family, especially his grandchildren and was a kind and generous man.
Wayne is survived by his wife, Carol; three daughters: Dawn (Kent) Grypp of Gilbert, AZ; Julie (Phillip) Daggerhart of Chicago, IL; Carrie (David) Clawson of Seaton, IL; two sons: Terry (Doddie) of Oneida, IL; Todd (Joelle) Johnson of Woodhull, IL; 10 grandchildren: Britta, Emma, Mackenzie, Mackayla, Jordan, Paris, Shea, Maverick, Chad and Kyle; one sister: Carol Kenney of Bishop Hill, IL; one brother: Blaine (Peggy) Johnson of Laguna Niguel, California; several nieces and nephews.
He was preceded in death by his parents and one sister, Janice Litton.