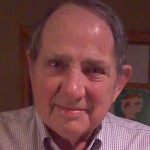 Harold "Bud" Bastian of Oak Run, Illinois passed away on May 6, 2014 at the age of 85. He was born September 7, 1928 to Presley and Clara Bastian in Pekin, Illinois.  He was the second of 3 children.

Bud attended Pekin Schools and spent summers on his beloved Grandparents farm.  As a young man, he worked for his parents who owned the Havana Dairy.  He also worked for his uncle who owned the Pekin Dairy.  Bud joined the United States Navy in January, 1952 serving on the USS Barton during the Korean war.  He was honorably discharged in December of 1953.  He then attended Bradley University in Peoria, Illinois and began working for the Peoria Journal Star as a salesman and eventually became Advertising Manager before moving on to become Radio Station Manager of both WIVC-FM and later WSWT-FM (Sweet) in Peoria.
In December of 1975 Bud became Co-Owner and General Manager of WAIK-AM and brought WGBQ-FM Q-93 (currently The Laser) to the Galesburg area. He founded and eventually retired from American Business Consultants where he marketed and produced musical commercials for clients of radio stations throughout the Mid-West.  But Bud couldn't slow down and he never settled for full retirement.  During his retirement he began and continued to sell small group health and life insurance until recently.
He was a member of the following: US Jaycees; President of Morton Jaycees; JC 1 Senator, Peoria; Peoria Advertising and Selling Club; Morton and Galesburg Rotary Club; Knox County United Way Hearing Commission; Board of Directors, Knox County Salvation Army; Galesburg Downtown Village Board; Galesburg Chamber of Commerce and Oak Run Steering Committee Board of Directors.
Bud married Lois E. Vermillion on August 30, 1958. He was preceded in death by his parents Presley and Clara Bastian; his sister and brother-in-law Shirley and Fred Copes and his infant son Barry Wade.
Surviving Bud are his wife Lois; sons Rob (Carla) of Circleville, OH and Jamie (Angela) of Galesburg, IL: daughter Jolie of Indianapolis, IN; grandchildren Trevor and Presley of Circleville, OH and Myah, Nikolas and Macy of Galesburg, IL; a brother James P. Bastian of Pekin, IL and many nieces and nephews
A celebration of life service and balloon release with military honors will be held at Lakeview Beach, Oak Run at 4:00pm Saturday, May 10, 2014.  Lakeview Road North, Dahinda, Illinois 61428. Hurd-Hendricks Funeral Homes in Knoxville, Illinois in charge of arrangements. Memorials may be made to the Wounded Warrior Project.  Online condolences and sympathy cards may be sent through www.hurd-hendricksfuneralhome.com