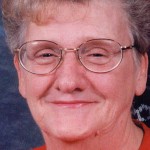 Ora Mae Johnson, age 79 of Galesburg, formerly of Abingdon, died at 1:40 pm Wednesday, May 7, 2014 at OSF St. Mary Medical Center in Galesburg.

She was born on December 30, 1934 in Alton, Missouri, the daughter of Guy and Lula (Johnson) Cartee.  She married Waif R. Johnson on June 9, 1952 in Pocahontas, Arkansas.  He preceded her in death on January 14, 2009.
Ora Mae is survived by one daughter, Vanessa (and Ed) Cassiday of Abingdon; two sons, Jerry Johnson of Tucson, Arizona, and Terry (and Madge Renwick) Johnson of Galesburg; five grandchildren and four great-grandchildren.
She was preceded in death by her parents, one brother and three sisters.
She worked as a CNA for over thirty years at the former Good Samaritan Nursing Home in Knoxville and at the Care Center of Abingdon.  She was a member of the United Freewill Baptist Church in West Plaines, Missouri.
Her hobbies included quilting and doing embroidery.  She also enjoyed cooking for her family and friends.
Graveside service will be at 11:30 am Monday, May 12, 2014 at the Abingdon Cemetery.  Mrs. Eleanor Landon will officiate.  Visitation will be from 10:00 am to 11:00 am Monday at the Hinchliff-Pearson-West Abingdon Chapel.
Memorials may be made to the Church of God of Prophecy Building Fund.  Online condolences may be made at www.h-p-w.com.