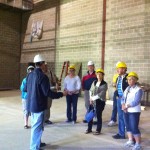 The construction site was active yesterday morning so everyone had to wear a hard hat, but no one seemed to mind.
A small group of Knoxville residents got to tour the new high school addition lead by Superintendent Steve Wilder.
Wilder took the group all around the new school showing them things like the brand new wrestling room which can double as a dance room and will even be the school's safety room in case of natural disasters or other emergencies.
But, Wilder also talked about how classroom and building design is promoting a different style of learning.
"We have collaboration areas purposely designed inside the building, right outside classrooms, so that students can work in groups inside classrooms or they can step right outside into an open area where they can work in small groups as well. They can step out, they can work independently, work in small groups together. They can practice presentation, they can work on projects together."
Wilder explained he believes the days of a teacher standing in front of a classroom and just teaching are over.
He says he sees teaching shifting to a more team oriented style and says that's what the new building is designed to accommodate.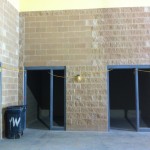 Tags: