There's not much left of the third floor of the old Farmington High School, and fire officials worked into the evening to get an early Thursday morning fire out.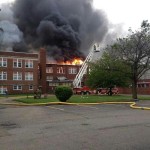 Around 5am Thursday the Farmington Fire Department received a report of smoke coming from the old high school.
Farmington Fire Chief Anthony Scapecchi tells WGIL crews arrived on scene rather quickly and began to start assessing how to handle the situation.
"The first engine out, came here, spotted smoke in the back of the building," Scapecchi said.  "We set up a tinder operation and brought engines in from Elmwood, Copperas Creek, Yates City, Canton's tower, and little Trivoli."
Scapecchi says crews started taking a defensive approach, battling the fire form the outside and above.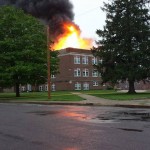 Once crews were able to get inside the school, Scapecchi says there was so much debris and damage figuring out what a cause may have been was too difficult.

The building is being called a total lose. Scapecchi says the Illinois State Fire Marshal is scheduled to come out and visit the site today.

CLICK HERE for photos from the fire.  Stay with WGIL and WGIL.com for further details.

Tags: