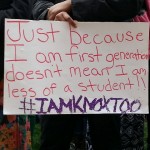 Knox College students took to the most well-known structure on campus yesterday to let administration know they're not pleased with how the college handles various issues relating to the fact the campus is very diverse.
Several hundred students walked out of classes yesterday afternoon for a rally and protest at Old Main. They claim the college doesn't handle diversity claims well, allows students and teachers alike to make racist remarks, and in some cases, allowed sexual harassment.
Student organizer ChanTareya Parades tells WGIL Knox simply needs to help students better.
"Students are feeling targeted," Parades said.  "Students are feeling silenced, and students are feeling oppressed.  We need to have some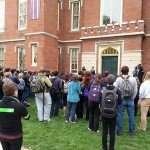 type of way where students can get their voice out, be heard, and [have] something be done about it, so we can change the culture on this campus."

Knox Chief Communications Officer Megan Scott tells WGIL they listened to the students' pleas yesterday.

"The 'President's Council', the president and the senior administration, sent out a note that essentially said that we were really interested in hearing what our students had to say…and that we want to participate in any type of open forum or town hall."

The students who organized yesterday's walkout say they want a meeting with the college administration and Board of Trustees on their issues. One of them, Maricruz Osorio, tells WGIL that e-mail may not be good enough.

"I've engaged in countless conversations.  I've talked in front of the faulty at a faculty meeting.  I've definitely talked to the administration," Osorio said.  "But, it's still…progress needs to be more expedient.  The needs of students now [are] real, and that needs to be addressed."

Osorio — a California native and about to graduate — says she's been working on various diversity issues since around the time she arrived on campus.

Scott tells WGIL they want any problems solved, too.

"It's a tough conversation that these students are having," Scott said.  "Our goal, and our top-most priority, is to make [campus] a safe and inclusive community for all students.  These are difficult conversations that we have to have in order for all of us to make this a better place."

Tags: