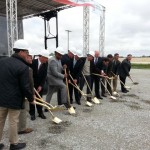 UPDATED 2:25pm 5/16/14  The rumor is finally true, and the name is official: An Iowa-based cold storage company is building a multi-million dollar facility in Warren County.
Governor Pat Quinn and Knox and Warren County officials formally broke ground today on a distribution center for Sioux City-based Cloverleaf Cold Storage not far from the Farmland Foods plant in Monmouth. The distribution center, slated to be open next March, will directly serve the Monmouth Farmland plant.
Monmouth Mayor Rod Davies says this project has been a long time in the making.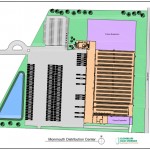 "This is one of those rare, sweet days for a small town mayor to stand here, after several years of hard work by dozens of dedicated individuals, to announce a groundbreaking of thismagnitude," Davies said.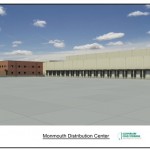 Cloverleaf Cold Storage president Daniel Kaplan says Davies and the city of Monmouth were a huge help to the company.

"We're not the easiest group to work with," Kaplan said.  "We threw a number of curve balls at the city here in the past year.  But I have to tell you, city officials really…they handled every request we made, and every stumbling block which arose, they handled with such calmness and with grace."

$3.4 million in mostly property tax abatements over ten years are being given to Cloverleaf, through the city of Monmouth, Warren County, and the United School District.  That's in addition to almost $3 million in state incentives, ranging from tax credits to money that will be used to widen part of U.S. 67 and build a new access road.

Tags: