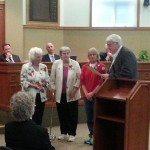 POSTED 8:26pm 5/19/14  The Galesburg City Council is moving forward a project that will see a new parcel of land officially become part of the city, and will see a new retail outlet and possibly even more residential housing.
Aldermen tonight unanimously voted in favor or several pieces of the puzzle along Seminary Street and Carl Sandburg Drive, including annexing land into the city, changing zoning on other parts, and approving the minor plat for part of the land.
What didn't happen was the granting of a waiver developers say they wanted initially regarding the appropriate amount of right-of-way.  The city says it wants the full amount, so that it doesn't have to try and buy back the land in the future if further developments along Carl Sandburg Drive are needed.  At one point, several aldermen wanted the waiver granted, so that the project could move along.  But they later changed their minds after learning that it would not derail the project if it were granted, and that developers had made plans assuming the waiver would be denied.
City officials said water drainage would have to be worked into the plans  as part of city ordinance.  That was in response to a neighbor saying that every time what's farmland there now floods, her house is hit hard — a problem she's been dealing with for 30 years.  City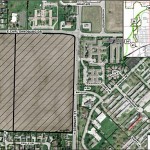 officials say Casey's has a drainage plan for storm water using underground storage tanks, and should the remainder  of the land become residential, similar issues will have to be addressed.

Aldermen Monday also approved a request by Pegasus Manufacturing giving them city money to make up for part of some federal grant dollars they were not able to use prior to a deadline.  Pegasus COO Ray Whitehead thanked the city for all their help, and said they would now be updating the city and residents regularly on their progress, now that they've moved from California to Galesburg.

The City Council also voted to allow parking on the west side of Cherry Street from North to the railroad tracks, okayed removing a one-hour parking area on North Cherry Street, and approved beginning demolition action on a house at 740 Abingdon Street that officials say is dilapidated.

Mayor John Pritchard also proclaimed May 23 and 24 "Poppy Days" in Galesburg, in honor of the annual Memorial Day weekend fundraiser by the American Legion Auxiliary.

Tags: