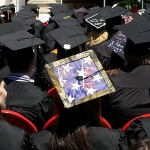 The best minds are needed now, and the current set of graduates from Monmouth College is equipped to have them.
That's according to Doctor Paul Weisenfeld, current Vice President for Global Programs at RTI International, and former head of the US AID Organization. He told the roughly 250 members of the class of 2014 the current technology-based economy means the that the times ahead pose formidable challenges in his words.
Weisenfeld told students to reinvent themselves constantly, think in non-traditional ways, and have more than just good intentions when going out into the world.
And Weisenfeld told the students that as they move forward in their careers, to do less talking and more listening.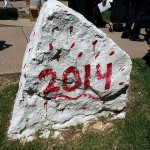 "The world of decades ago, where bosses knew everything and barked out orders to subservient minions — the world you see on 'Mad Men' — is not the world you're entering into," Weisenfeld said.  "Organizational management has been transformed, and the language of today emphasizes team work, team building, and team morale, and recognizes that organizations flourish when they inspire, motivate, and leverage the full capacities of your people."

Weisenfeld says he started working as a lawyer, but while he was making plenty of money, he wasn't feeling fulfilled.  He says you should do something you're passionate about.

Tags: