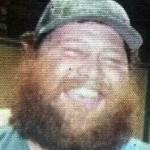 Mr. Calvin R. Line, 43, of Galesburg, Ill. died at 1:57 p.m. Wednesday, June 4, 2014 in Galesburg Cottage Hospital.

He was born September 24, 1970 in Galesburg the son of Russell D. and Maxine May Morgan Line.
He is survived by his long-time companion, Victoria Mathers of Galesburg; two brothers, Kevin (Roni) Line and Jeff (Becky) Line, both of Wataga, Ill.; his sister, Nancy Rash of Fulton, Ill.; his children, Ronnie (Amanda) Creek, Jennifer (Justin) Bledsoe, both of Knoxville and Ryan (Brittany) Abingdon, Ill.; and he was papa to eight grandchildren, Taylor and Kody Creek, Matthew, Kaylee and Gauge Bledsoe and Hunter, Aiden and Makenzie Creek.  He is also survived by his nieces and nephews, Charles, Richard, Randy and Robert Rash and Jessie, Rusty and Krista Line.  He was preceded in death by his parents and his brother Rusty in 1975.
Calvin worked as an apprentice operator at Koppers Company for over 20 years. He loved going boating and fishing at the river any chance he had.
Graveside services are scheduled for 10 a.m. Saturday, June 7, 2014 in Wataga Cemetery. Rev. David Kramer will officiate. There will be no visitation. Memorials may be made to the family.  Hinchliff-Pearson-West Galesburg Chapel is assisting the family with arrangements. Online condolences may be offered at www.h-p-w.com.