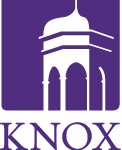 The south lawn of Old Main on the Knox College campus played host to the 169th annual commencement ceremony on Saturday.

Around 300 Bachelor's degrees were presented to the class of 2014; a class Knox College President Dr. Teresa Amott called one of the most diverse in the history of the college.
Though many congratulations were given, a moment of silence was shared in memory of Tundun Lawani: the Knox College student killed in a hit-and-run vehicle accident in October of 2012.
Dr. Amott says it has been an intense four years.
"You have encountered disappointment, maybe even despair," says Amott. "You have worked to exhaustion in the classrooms, in the playing fields and courts, in the library. You have lost a friend and a classmate and we remember her today."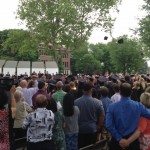 This year's commencement address was given by Natasha Trethewey, 19th Poet Laureate of the United States. She shared with students her story of success as well as times of struggle when her mother was gunned down in a parking lot by her second husband.

Trethewey, who missed her graduation says she was honored she was able to share the ceremony with students.

"Some of you have faced difficult odds thus far in your lives, perhaps having to work while pursuing your studies, or deal with an illness or disability or serve as a caregiver for a family member, many of you have not and for that blessing I am thankful and wish for you that it always be so," says Trethewey.

Three honorary degrees were bestowed Saturday to Anthropologist Alan Harn, jazz musician Ramsey Lewis, and Trethewey.

Amott closed the ceremony by recommitting the college to creating a "culture of respect."

Tags: