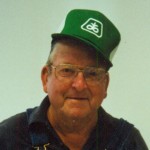 LeRoy I. Bowman, 90 of Knoxville formerly of Maquon, died at 11:38 A.M. Friday, June 6, 2014 at Knox County Nursing Home, Knoxville, IL.

He was born on July 18, 1923 in Galesburg, IL, to Earl H. and Laura (Ramp) Bowman.  LeRoy was educated in Gilson and graduated from the former Haw Creek Township High School in 1941. He married Mary Louise McWilliams on September 9, 1944 in Knoxville, Illinois. She preceded him in death on November 11, 1983.    He later married Frances Strode on December 6, 1984 in Knoxville, Illinois and she preceded him in death.
LeRoy is survived by his son, Gary (Mary Beth) Bowman of rural Maquon, Illinois; a daughter, Teresa Black of Longwood, Florida; one sister, Sarah Tracy of Galesburg, Illinois; four grandchildren, Kevin (Chelsie) Bowman of Elmwood, Illinois, Mary Lynn Bowman of rural Maquon, Logan Bowman of Omaha, Nebraska, and Paige Louise Black of Johnson City, Tennessee. He was preceded in death by his parents, his two wives, one sister, and six brothers.
LeRoy farmed in Chestnut Township his whole life.  He also was a rural mail carrier for 27 years out of the Maquon Post Office.  He was a World War II veteran serving in the United States Army.
He was a member of the former Congregational Church in DeLong, Illinois.  LeRoy also belonged to the Knox County Farm Bureau, National Rural Letter Carriers Association, and the Harry Philblad American Legion Post No. 749 of Knoxville, Illinois.
Graveside service will be at 10:30 A.M. Monday, June 9, 2014 at Haynes Cemetery, Delong, Illinois.  Rev. David Shreeves will officiate.  In lieu of flowers memorials may be given to Delong Congregational Church Haynes Cemetery Fund or the Knox County Nursing Home. Hurd-Hendricks Funeral Home in Knoxville, Illinois is in charge of arrangements. On-line condolences and sympathy cards may be sent through www.hurdhendricksfuneralhome.com.