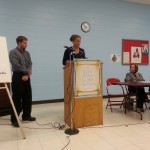 Leaders, residents, and officials in Warren and Henderson Counties are not giving up on the push to make US 34 a four-lane highway between Monmouth and Burlington, Iowa.

The group known as the Highway 34 Coalition held what they called a "rally" at West Central High School in Biggsville today to urge the continued push for funding of the proposed expansion — but with a new rallying cry: "20 miles by 2020."
A nearly six mile stretch of 34 in the Biggsville area is being converted into a four-lane bypass – which West Central Superintendent Ralph Grimm says is good, but not good enough.
"It's still a major issue for us, it's still a significant issue to ensure that those students and our staff members and anyone who comes to this campus can get here safely and return home safely," says Grimm.
Now a West Central grad, Miriam Rutzen helped form a student group called "34 Voices," and presents a scenario where solely having a new bypass won't be good enough.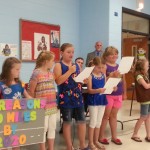 "We have a ton of semi-trucks that are driving and they're squeezing into this two lane, flying through the four lane and then squeezing back onto the two lane," says Rutzen. "If I'm a teenage driver and I'm going to school, and I'm driving on Highway 34, I'm a little scared, I get nervous."

At least one fatal accident has happened in recent years outside West Central alone, with another fatal accident happening last February on 34 in Henderson County.

Lawmakers at the event say much like the capital bill that paid for the bypass, everyone supports the bill, but the big question will be how to pay for it.

Tags: