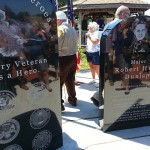 A new memorial honoring Abingdon's heroes, along with the founder of the city, was officially opened yesterday — Flag Day.
The Abingdon Historical Society dedicated its "Garden of Heroes" yesterday. Designed similarly to the veterans memorial at Lincoln Park in Galesburg, the Abingdon memorial near Main and Meek Streets includes bricks with the names of local soldiers, and several larger monuments honoring four of Abingdon's most well-known late residents: Abingdon Founder Abraham Swarts, Navy Admiral James Stockdale, and veterans Robert Dunlap and Milton Haney.
Stockdale's son Taylor told a crowd his father never forgot where he came from.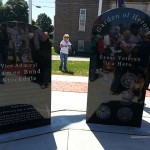 "My dad often attributed much of his fortitude, inner strength, and moral courage, to growing up here in Abingdon.  His roots were here," Stockdale said.  "This is clearly what he was most proud of, and where he drew his strength."
Strength, Stockdale said, that was needed during the time he was a Prisoner of War in Vietnam.
Dunlap's daughter Donna Butler said her father could be described as a somewhat little man with a big heart, and said she hopes local youth make note of, and enjoy the memorial.  Butler, says her father learned his values and core skills in Abingdon, and that the former teacher and coach was the type of person adored by many.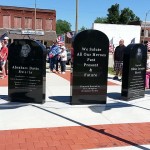 "A former student commented, when interviewed, 'He never rung his own bell,'" Butler said.  "'Likewise, Mr. Dunlap demanded respect, although he never really had to ask for it or demand it, because the kids simply gave it to him.  Most students simply liked him.'"

Historical Society officials say there's still room for names at the memorial, and anyone who needs a name added can contact the society.

Tags: