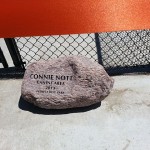 There were lots of tails wagging yesterday as the City of Galesburg officially gave some of its four-legged friends a place to play and run without violating city ordinance.
The multi-year project of the Project Dog Park group became a reality yesterday, with the opening of the Connie Nott Canine Area at Inbinder Park on Carl Sandburg Drive. A $47,000 fundraising effort led to the opening of what will be several areas for large and small dogs to play, along with a unique dog-friendly drinking fountain.
Project Dog Park president Obi Oki told a crowd she knew she had to do better for her dogs, Max and Zeus.
"They both were escape artists," Oki said.  "They both were victims of motor vehicle accidents, and they've both been to dog prison.  To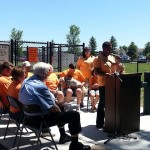 this day, my mailbox remains at the curbside because of Max.  Something had to be done, something to ensure [the dogs'] safety, yet enable them the freedom to run, like dogs are meant to.  I was tired of sneaking off at 5 a.m. to run my dog illegally — and not safely — at Lake Storey."

Nott died in 2012, but her granddaughter Lisa Sullivan says Nott was part of the effort to make the park a reality.

"This park has truly been a grassroots effort, from conception to completion," Sullivan said.  "A simple idea has bloomed in to so much more."

Nott's daughter and Project Dog Park vice president Melissa Powell, says those grassroots effort resulted in $47,000 in donations, including at least one big gift.

"There's a gentleman named Dan Edwards, who lives in a completely different state, who sent us a $6,000 check," Powell said, "because his parents live in this town, and he wanted a place for them to take their dog.  He didn't really want recognition, but I think it deserves some."

Dogs using the dog park have to have city tags and all their vaccinations, among a list of other rules and regulations for usage of the fenced-off area of Inbinder Park.

Nevertheless, Galesburg Mayor John Pritchard said yesterday the city is that much better of a place to live, because the dog park is now open.

Tags: