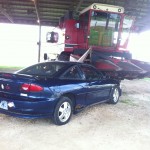 Students from all over Knox County spent yesterday out at the Knox County fair grounds for Farm Safety Camp.
The camp took kids through several stations that included chemical safety, farm hazards and even lawnmower safety.
However, if you ask camp Director, Pat Hennenfent the most important part of the camp came at the end–the accident scenario.
Hennenfent tells WGIL when it comes to the accident scenario they don't hold back, because they want parents and students to understand the importance of being safe.
"By having a real life accident scenario, it kinda gives them a feeling of what it would be like if they were involved in an accident and we try to do somethings that would make them think about, you know, it doesn't just affect me, it affects my parents my grandparents so you know it's very important to practice safety."
Hennenfent says they don't want to use a video or pictures to show students what might happen.
He says using real people and real equipment has a better impact.
Hennenfent says they don't beat around the bush when it comes to the scenarios they come up with. This year's scene showed a young man killed in the accident caused by a distracted driver.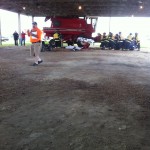 Tags: