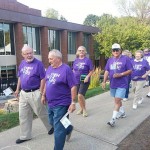 Celebrate, Remember, and Fight Back has been the mantra of an annual fundraising event benefiting cancer treatment and research in Knox County; but this year, three more words were added: Finish the fight.
That was the theme of the annual American Cancer Society's Relay for Life — held once again this year on the quad at the Knox College campus. 28 teams of walkers consisting of over three hundred participants raised funds to take part in the all night event, which wrapped up this morning.
Organizer Stacey Dutton told the crowd during opening ceremonies last night those participating are making an important difference.
"As a community, the steps you take around this track, and the money you have raise and continued to raise, enable the American Cancer Society to continue save lives by helping people with cancer today, with programs, support they need, finding the causes of cancer, and cures with ground-breaking research," Dutton said.
2013 was "kind of a blur" according to a Galesburg resident who now says she's starting to feel better after a cancer diagnosis.
Actually, several of them. Years after Trish Hurst survived breast cancer in 2006, just seven years later, she was diagnosed with ovarian cancer, and while testing was done on that, a colon cancer diagnosis came.
But, Hurst told the crowd she wouldn't have been able to get through it all without all of them.
"I was boosted up by so many people — many of them strangers — through kind acts and love," Hurst said, "so that what should have been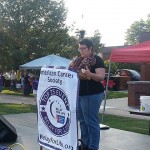 an absolutely horrendous time became bearable.  I learned a very a valuable lesson:  don't hunker down by yourself to make it through on your own.  Accepting support doesn't make you weak, but it can actually bolster you to unimaginable strength."

Hurst says it's been seven months since her last chemotherapy treatment, and a year since that last cancer diagnosis, and the difference made by friends and loved ones has been immeasurable.

The Relay for Life raised $97,800 as of this morning, but donations are being accepted through August 31st.

Tags: