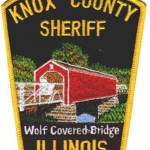 A vehicle parked in Knoxville was broken into last weekend and some pretty pricey items were allegedly stolen.

That's according to the Knox County Sheriff's Department who says they are currently in the process of investigating the burglary.
According to a press release, the alleged incident took place some time on Saturday July 26th, likely in the afternoon hours between 1 and 3 p.m.
Sheriff's Deputies were called to the 900 block of Knox Road 1330 North in Knoxville after the victim reported a stolen purse. The address has been identified as the parking lot of a baseball field.
Not only was the purse "Coach" brand, but the accessory bag contained two white gold and diamond rings with a value of about $8,000. Investigators also say about $1,700 in cash was also allegedly stolen in the incident.
An unknown suspect is thought to have entered the victim's vehicle to steal the items, but few leads have been gathered so far.
The Knox County Sheriff's Department says, however, they are asking anyone with information on the incident to call Galesburg Area Crime Stoppers.