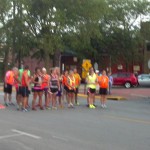 It's not easy getting up before the sun on a Saturday morning and deciding to run 50 miles, but for the runners participating in the Galesburg to Peoria Saint Jude Run it's well worth it.
Yesterday morning runners geared up for their run and it was clear from the look of it, it didn't matter if it was 50 miles or 2 these runners would still take the time and effort to participate.
For Pam Orwig participating in the Saint Jude run is a yearly tradition, and she tells WGIL she has a very personal reason for making sure her and her family support Saint Jude–her son.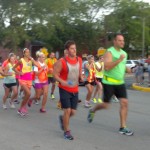 "Bryce was born in November 2005 and he had a mass that protruded from his rib cage. It was removed when he was ten days old and the doctors knew immediately it was malignant. He started Chemotherapy at a month-and-a-half old, did eight rounds of Chemotherapy, finished that in the summer of  '06 ."
During the 50 mile run to Peoria runners ran in stages to maximize each runners ability.
A support team rode along with the runners providing water, food and transportation during breaks.
The Galesburg runners raised a little more than $74,000 for this year's Saint Jude Run.  
Tags: