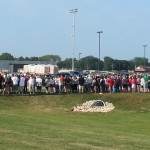 UPDATED:  Since this story was written, we've learned that Jason Maulden, 16, has died.  An updated story is coming soon to WGIL and WGIL.com.  Galesburg resident Steve Cervantez was killed when he lost control of his 2002 Ford Explorer causing it to overturn multiple times.
Cervantez was headed westbound on I-80 near Ottawa around 5 o'clock Saturday evening.
According to Illinois State Police Cervantez was traveling with two passengers, 35 year old Keisa Henry and 16 year old Jason Maulden.
Both passengers were airlifted to a nearby hospital due to their injuries. All three members of the vehicles are believed to have been returning from the American Legion state baseball tournament in Arlington Heights.  It's unclear at this time the condition of either Henry or Maulden.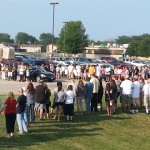 Friends, family and Galesburg residents gathered outside Galesburg High School this evening for a prayer circle in honor of Cervantez, Maulden and Henry.

Tags: