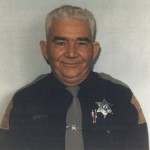 A Warren County Sheriff's Deputy killed in the line of duty over 30 years ago is being honored with a stretch of highway being named after him.

A ceremony was held today officially dedicating a one-mile stretch of US 67, about 7 miles north of Monmouth, as "Deputy George V. Darnell Memorial Highway." Darnell was shot and killed in December of 1981 when responding to a call at the former FS facility north of Monmouth.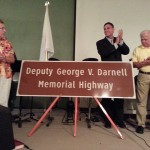 Warren County Sheriff Martin Edwards says he hopes the dedication sends a special message to Darnell's family.
"We as a community are demonstrating that we don't forget those who have sacrificed for us," says Edwards. "We simply don't forget our heroes. On this day in this place, we may be reopening emotions for the Darnell family and those who knew him and worked with him. I would hope those emotions are being overshadowed by pride today."
Now 60-years-old, David Eric Wolfbrandt is serving a 70-year prison sentence after being convicted in Hancock County in 1982 of Murder, Armed Robbery, Armed Violence, and Theft, but could be paroled in 2017, or discharged in 2020.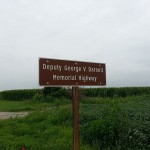 Retired Warren County Sheriff Gary Higbee says in the hours and days after Darnell was shot and killed responding to the call help was tremendous, but investigating was frustrating.
"A systematic search for him was organized by the State Police, got made by the Sheriff's Office, and a statewide bulletin was posted by the sate police to be on the lookout for a big semi-truck to no avail," says Higbee. "The semi-got by it, everybody, but during our investigation, we realized that he had taken a lot of back roads, blacktops, and made his way down to Southern Illinois."
The former Davenport resident stole fuel from various regional FS locations and then provided it to his friend's construction business. He's being held in the Centralia Correctional Center.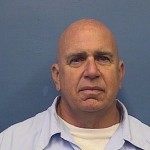 Illinois lawmakers approved of the highway naming back in May.  Listen to the entire dedication ceremony below.

Tags: