The Knox County United Way says they hoped they created awareness about some of the social service organizations in the community yesterday, while giving families a nearly free opportunity to have fun.
The United Way held its fifth annual Family Fun Day yesterday at the Knox County Fairgrounds. While there were plenty of games for families and kids, Executive Director Ann Tucker says she hopes that most of the over two-dozen partner agencies the United Way helps fund gained some awareness.
Tucker tells WGIL the public may have some misconceptions the United Way hoped to address yesterday.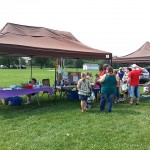 "A lot of times, people don't understand or realize that one of our partner agencies is under the United Way," Tucker said.  "It shows people that we support a lot of different agencies here in the community."
Proceeds from yesterday's event go toward the United Way's annual fundraising campaign, which started this year for the first time on the Fourth of July instead of Labor Day.
Tucker tells WGIL they're only at seven percent of their annual goal right now, but she thinks business might soon start to pick up.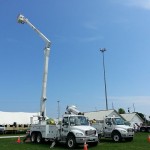 "We're just starting to get rolling with our [business] presentations," Tucker said.  "We've already done our huge mail campaign; that's always the big thing, getting that out.  We've had pretty good response from that.  So, it's nice to have that out of the way, and those contacts made through mail.  Now, we'll just be making some follow-up phone calls and doing the company presentations, and anything else we can do to garner some pledges to reach our [$350,000] goal."

Tucker says business presentations are already somewhat successful. Target employees, for example, have committed over $3,000 to the campaign.

To see more photos from Family Fun Day, CLICK HERE.

Tags: