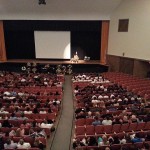 Outgoing. Friendly. Young. Caring. A "genuine young person."
Those were some of the words used today to describe Jason Maulden. A funeral service was held at Galesburg High School for Maulden, who died August third, just a day after an accident on Interstate 80 near Ottawa that also claimed the life of his grandfather, Steven Cervantez, and injured his mother, Keisa Henry. Today would have been Maulden's 17th birthday.
Hundreds gathered to remember Maulden, including members of the Galesburg High School and Galesburg American Legion baseball teams.  It's that kind of showing that Legion coach Steve Cheesman says shows Maulden was someone special.
"The love that people have for Jason, is evident right here," Cheesman said.  "People don't show up for someone when there isn't a genuine feeling of love for someone."
Silver Streaks Baseball Coach Arnie Gonzalez says love is what you felt around Maulden if you were a teacher at Galesburg High School.
"They can associate Maudie with being a caring, sincere person, who you come to love and appreciate the fact that you have Maudie as a student in your school," Gonzalez said.
Dan Siems is the pastor of the First Baptist Church in Galesburg, and says Maulden hit only one home run his entire baseball career, but in death, he truly knocked one out of the park.
"Others who have never even known Jason counted on him as well," Siems said.  "As even a final act as a gift of hope, a home run organ donor.  Think about it.  Jason hit his second home run, in giving the gift of life to others."
While members of the Galesburg American Legion and Silver Streaks Baseball teams were in attendance and described Maulden as a hard-working, determined player, Siems says Maulden was just that way in school as well — being an honor student, and a leader in the DARE program.

He says Maulden even put that kind of effort into a "Rock, Paper, Scissors" tournament at GHS.

Maulden was described as dedicated and a hard-worker, both on the field and in the classroom, and in other aspects of his life — the type of person willing to do whatever it takes.

Gonzalez says the best way you can honor Maulden is continue to be positive — just like he was.

Tags: