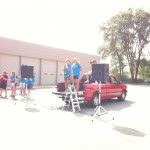 After a weekend of smaller pickets and little movement forward regarding a potential teachers contract the Galesburg Education Association decided to hold a rally this morning to revive teacher's spirits.
The morning rally started with the band to wake up GEA members followed by updates from committee chairs regarding upcoming plans for the week.
A new idea will commence at ten a-m tomorrow morning and comes from GHS Social Studies teacher Stu Schaafsma and Silas Willard Elementary outreach teacher Brad Mowen.
"Brad Mowen and I are foolish enough that are a going to go tomorrow morning at ten am and we're gonna sit out in front of this high school 24 hours straight and we are doing that not only in support of our bargaining team, but just in support of the whole bargaining process. We want the board bargaining team to know that we're behind what they're trying to do as well because what we need is a solution and a contract and we want to support the entire bargaining process."
Schaafsma says they'll be out there all day and night and hope others will come and join them on their 24 hour quest.
During a news conference held by Superintendent Bart Arthur this morning Arthur told reporters he's not opposed to going around the clock to get a contract worked out, if in fact negotiations are moving forward.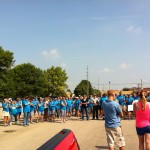 Tags: