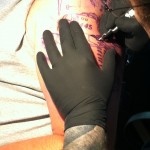 Getting a tattoo is a choice you live with for the rest of your life. For many it's a piece of art you carry on your body that tells a story — sometimes personal, sometimes not.

In Galesburg, there are a few places to have a tattoo done; but if you ask some people who does their art, or who they suggest, many have one name: Hawk.
Jim Hawk has been tattooing for 35 years and has been in Galesburg since 1984, has had three different shops in three different locations, and will tell you it's not a job or a business — it's a passion.
When it comes to the tattoo planning stage, Hawk says he's all about taking the person's idea and making it a reality.
"Give me two hours, I'll change the rest of your life," says Hawk.
For Hawk, creating is something he has to do and has been doing forever.
"I was drawing people and places from memory between Kindergarten and First grade, if my parents hadn't witnessed me do it, they probably wouldn't have believed that I could," says Hawk.
Hawk is considered a "master tattoo artist" with more than 10,000 hours of tattooing.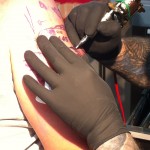 Tags: