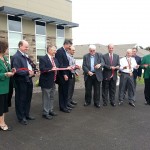 A cancer treatment center now officially has its own home in Galesburg.
A ribbon-cutting ceremony and open house were held yesterday for Illinois Cancer Care Center's Galesburg location, just off Carl Sandburg Drive and next to the new V.A. clinic. The center had been located in Galesburg's and Monmouth's hospitals over the years, but opened its permanent location a month ago.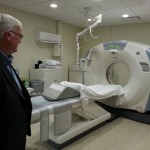 Doctor Paul Fishkin is president of Illinois Cancer Care, and tells WGIL having its own facility means it can be more of a one-stop opportunity for those seeking cancer treatment.
"When you're a chemotherapy patient, you have to have your blood counts checked, before you can get your treatments," Fishkin said.  "So, they can come in here, we can draw the blood, we can have the results in 10 or 15 minutes.  So, it's no delay on them when they get their treatment.  After all, treatments are difficult, and it's tiresome, and you have side effects.  The easier it can be for that patient, the better their outcome, and the better their result."
Doctor Francois Geoffroy is one of the partners in Illinois Cancer Care, and tells WGIL the facility will be a much more comfortable facility for patients.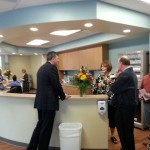 "If you have cancer, and you have to have chemotherapy, I think it's nice if you can do so in an environment that's warm, friendly, and inviting," Geoffroy said.  "It's a bad situation, so I think you need to present a nice place for people."

Geoffroy says that was done in this facility by the use of colors and decor, and even furniture. There are also a number of exam rooms, what he says is comfortable seating for cancer treatments, and other decor.

The Illinois Cancer Care location is one of 15 in the state. Fishkin says it's the largest such facility in the state.

It combines the cancer center, and the staff of local oncologist Doctor John McClean.

Tags: