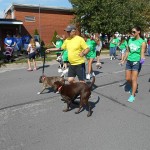 There were a number of charity walks in Galesburg over the weekend — all for worthy causes. One yesterday, however, didn't involve two legs — but, instead, four.
The Knox County Humane Society held its annual Doggie Jog yesterday at the Hawthorne Center shelter site. Around a hundred dogs and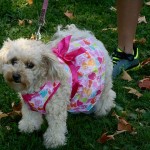 their humans were estimated to take part in the walk around the center, and then many took part in a talent competition of sorts.
All the proceeds of the 22nd annual Doggie Jog benefited the Humane Society, and it's help that shelter director Erin Buckmaster tells WGIL has proven very beneficial in recent years.
"We had to put in a new furnace system, because it was very old," Buckmaster said.  "We updated…coils for our air conditioning, and we put in air conditioning units, which has also been beneficial for the animals.  And, also, our costs aren't as high because by keeping it cool, you have less illness, you're not opening up all the windows."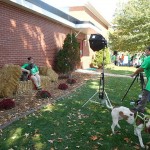 In recent years, the Humane Society has switched from only having someone on staff taking care of animals during business hours, to having someone working around the clock to take care of the pets — a policy Buckmaster says cuts down on messes and other problems.

There also was a silent auction, birthday cake, and even a chance for owners and their pets to get their photo taken.

Tags: