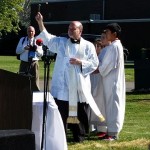 What's being described as a $2 million blessing for the Galesburg community is officially underway.
A groundbreaking ceremony was held yesterday for the expansion of Costa Catholic Academy. The addition will house technology, a music room, storage, and other needs, and was described as the first expansion of Catholic education in Galesburg in nearly 50 years.
Mary Burgland is co-chair of the committee raising funds for the project, and says the work is quite the blessing.
"The fact that we will be able to tell our friends and relatives to look at our Catholic School expansion, is truly a gift from God," Burgland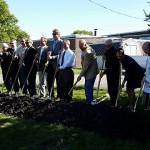 said."
Davenport-based Russell Construction — the same firm in charge of the Galesburg School District Master Facilities Plan — is in charge of the Costa expansion.  Company Senior Vice President Tom Fennelly — whose six children attended Catholic schools — says his company is so excited to be a part of this, as well as him personally.
"I know what kind of effort that takes.  I know what kind of sacrifice that takes, to get to something like this," Fennelly said.  "To have a Catholic school growing and expanding, I think, is a miracle."
Fennelly refered to the fundraising that took place prior to construction getting underway.
Galesburg businessman Mark Kleine is head of the Costa building Committee and says a different type of history is being made.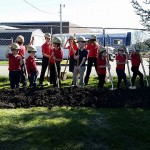 "All of us have laid the groundwork for the future of Costa Catholic Academy," Kleine said.  "I think that's, from a community standpoint and a God-centered education, what we all should be very thankful for."
Galesburg Mayor and WGIL owner John Pritchard told the crowd any time education, be it public or private, can be expanded in the community, it's a good thing.
Officials say it's expected to be complete by the end of May, in time for finishing touches to be done before the start of the next school year.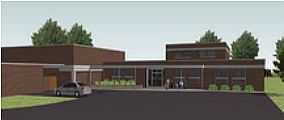 Tags: