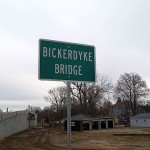 This one might sound a little bit familiar if you've been to other rail crossing grade separation-related events in Galesburg.
"We do want more trains, which means more jobs in Galesburg."
And State Representative Don Moffitt says that can better be done thanks in part to track upgrades and additions by Burlington Northern Santa Fe in Galesburg, and the opening of the new Seminary and Kellogg Street Overpass, also known as the Bickerdyke Bridge.
The ribbon was cut on the bridge this morning, officially opening up the structure to traffic. Moffitt — who was credited for making sure state capital construction money came to Galesburg for the grade separations — says more important than helping train traffic, Bickerdyke Bridge will improve safety, and potentially save lives.
"We're becoming a safer community with direct access to our hospitals from downtown, from the South Side of Galesburg," Moffitt said.  "And we will have faster fire and police and EMS response to and from any part in the city.  Unfortunately, I've heard over the years about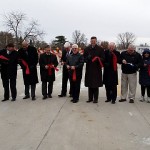 people that were in the ambulance on the way, and would be waiting for a train, and it was not a successful outcome.  If, just a few more minutes reduced time getting there, it probably would have been a different outcome."
Other lawmakers in attendance talked about how it was partnerships between units of government that made the overpass project work, and how it will also encourage economic growth and community pride.
The overpass is named "Bickerdyke Bridge" after famous Civil War Era nurse and Galesburg Resident Mother Bickerdyke. And as important as she was, Galesburg Mayor and WGIL Owner John Pritchard says don't just think of her when you drive on the overpass.
"I think the name Bickerdyke Bridge should be thought of as to honor all nurses everywhere," Pritchard said, "who provide life-saving services to all of us.  So, I hope as you see the sign and you cross the bridge in the future, you'll think of this Mother Bickerdyke story, and you'll think of the nursing professionals who she led the way for."
United Contractors Midwest Galesburg Vice President Mike McGillicuddy says he wasn't sure at one point the overpass would be ready to open today.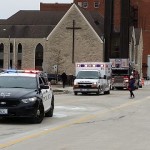 "We went through one of the worst winters I've ever experienced trying to build a project," McGillicuddy said.  "If you would have asked me May first of this spring whether we were going to finish it on time, that is a bet I would not take."
McGillicuddy says that's also because from his perspective, the summer was also unusually wet. But all in all, he says he's proud of the work.
The remaining mostly aestethic work still has yet to be done, but should be complete by June first.
Listen below to the full Bickerdyke Bridge Dedication Ceremony.
Tags: