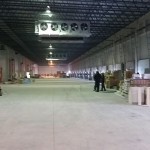 The hiring process will begin in earnest this weekend for the area's newest hundred-job employer.
Cloverleaf Cold Storage will be opening a facility for the Monmouth Farmland Foods plant in April, as construction is nearing its final stages. Today, the company announced they will be holding a hiring fair this Saturday from 10am to 2pm at the First Street Armoury.  So what kind of person is Iowa-based Cloverleaf looking for?
"If you're looking for long-term employment, and are hard-working and dependable, that's exactly what we're looking for," said Thom Smith, Cloverleaf Director of Operations.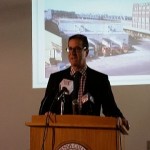 "We can train the people to do the positions we've got, whether it be in the office or on the dock," said Adam Feiges, Cloverleaf co-owner.
Around 150 people will be hired at first, with room to expand in the future.  Cloverleaf is advertising good pay and benefits.  Anyone who can't attend the hiring fair Saturday can go to the Monmouth AmericInn starting next week.
Listen to the entire press conference below.
Tags: